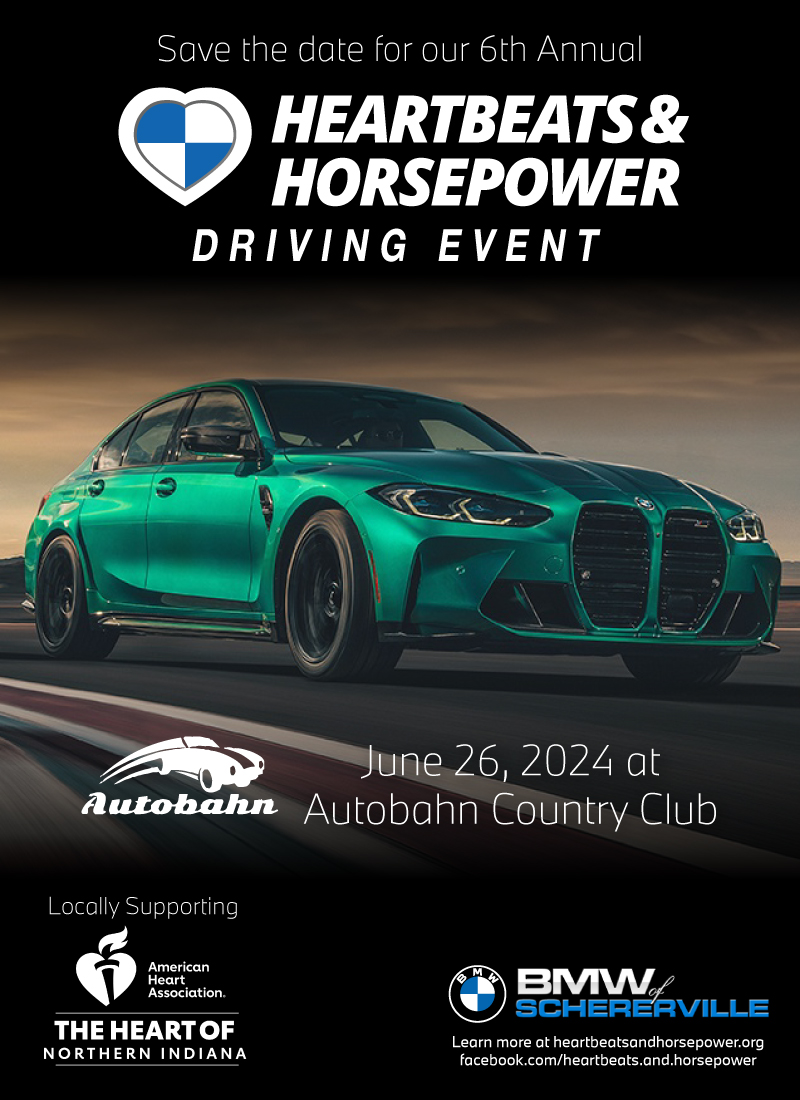 Calling all car enthusiasts! Take to the track and experience the thrill of BMW, Jaguar, and Land Rover power at BMW of Schererville's 6th Annual Heartbeats & Horsepower event benefiting the American Heart Society. The Autobahn Country Club will host us again this year and is the first purpose-built motorsports country club in the United States and includes 5+ miles of custom designed race and kart tracks.
Wednesday, June 26, 2024, 3:00 PM CST – 9:00 PM CST Autobahn Country Club, Joliet IL

Add to my Outlook Calendar
Featured Driving Events
DRIVE IT LIKE YOU STOLE IT
-SOLD OUT
Touring sessions are held on the North Track with three truckloads of new BMW vehicles, including dozens of M sport vehicles. Each participant will follow behind a pace car at speeds great enough to feel the part, but not fast enough to require a helmet.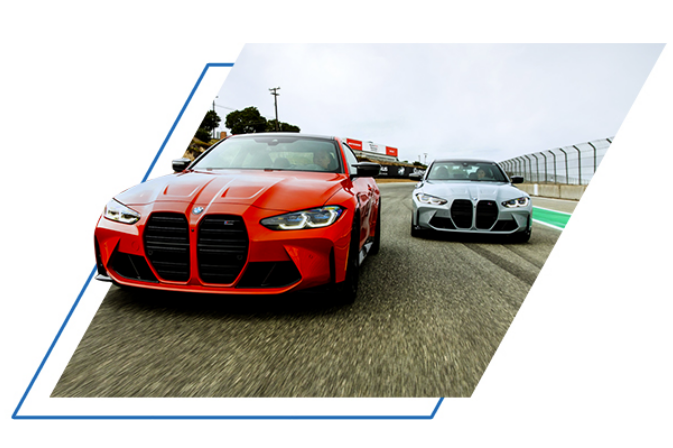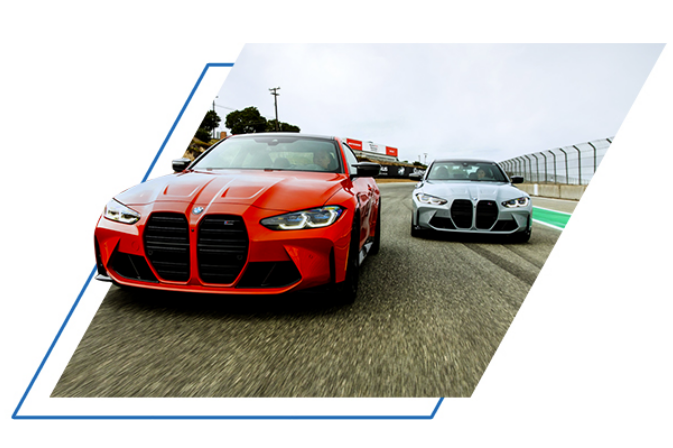 AUTOCROSS
-SOLD OUT
See why BMW vehicles are the Ultimate Driving Machines as you race against the clock to complete an autocross obstacle course in brand-new BMWs.
Conquer the test of time as you drive to beat the clock. Our Timed Autocross course is designed for drivers ready to test their skills and make every second count.
SOME LIKE IT HOT
-SOLD OUT
We have a number of customers and friends of BMW (competition licensed race car drivers/ driving instructors) that bring their track/ race prepped BMWs (and other vehicles) with passenger seats that provide "Hot Lap" rides on the South Track. Fully helmeted experience at full speed. These have scheduled times and we will be communicating those over the next weeks. Keep an eye on your email.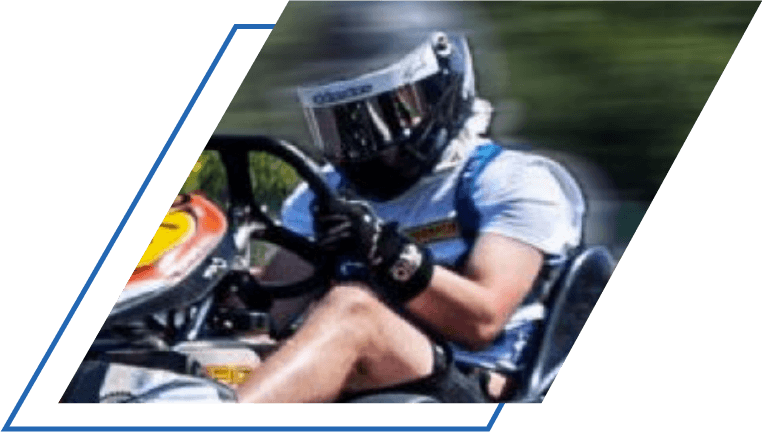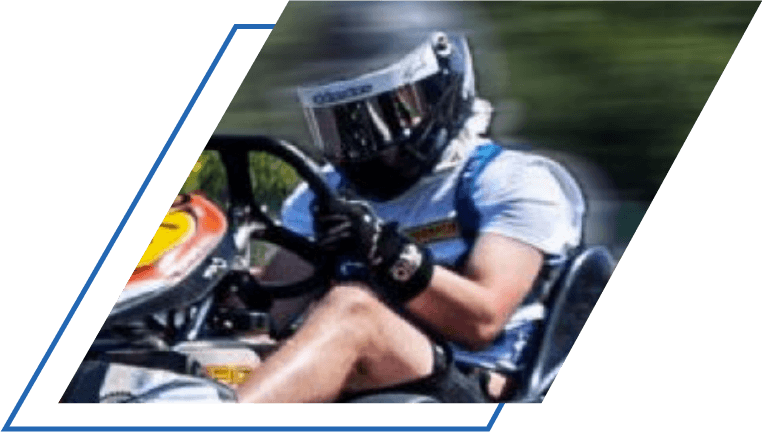 KARTING
-SOLD OUT
The Kart Track provides an opportunity for some friendly competition. These are racing karts. It's a helmeted high-speed experience.
Additional Details
Entertainment: TBD
A Silent Auction with significant memorabilia (Specifics TBD).
Drinks: Open Bar starting at 5:30. Any driving activities are closed once you partake.
Dinner: Fuel for Racers Buffet.
Speaker: Learn more about the next steps in driving, racing.
Hotel/ Lodging: We have a group of rooms blocked off at The Drake Hotel in Oak Brook, IL. The Drake is part of the Marriott Autograph Collection. There will be a shuttle from The Drake at 2 PM to Autobahn and departing Autobahn at 9 PM (or earlier) returning to The Drake. If you need a room, please coordinate with Berkli Thompson (bthompson@bmwsch.com)
Agenda: 6/26/24
3:00 PM CST – Registration
3:30 PM CST – Go-karts & Autocross Events
3:40 PM – 7:00 PM CST Scheduled Hot Laps
4:00 PM CST – M-Car Touring
5:30 PM CST – Open bar *(once you partake you are ineligible to drive)
6:00 PM CST – Live Music
7:00 PM CST – Dinner
7:45 PM CST – Silent Auction ends
8:00 PM CST – Silent Auction winners announced
9:00 PM CST – Mark your calendars for the Heartbeats&Horsepower Event 2023!
* The Silent Auction will be open during the event, feel free to look and bid throughout the day!
After some track time fun, Kirk Cordill, Dealer Principal of BMW of Schererville and Jaguar Land Rover South Shore, has a wonderful evening planned with dinner, an open bar, live entertainment, and a silent auction.
It's hard to imagine this is Cordill's 6th Heartbeats and Horsepower Event. Time flies! It's personal for Kirk; his father-in-law suffered a massive stroke while recovering from open-heart surgery, and his father had a stent and undergone an ablation. Giving back to causes that make a difference in the lives of ourselves and our loved ones is truly an honor. That's why Cordill covers all expenses of putting on the event – 100% of the event proceeds support the American Heart Association.
JOIN US ON AT THE AUTOBAHN COUNTRY CLUB IN
JOILET, IL, WEDNESDAY JUNE 26, 2024
We'd like to thank our Platinum Sponsors